ALEA - Art Deco Statement necklace - OOAK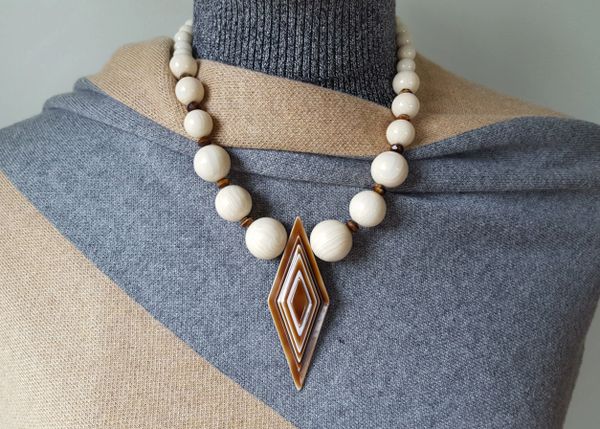 ALEA - Art Deco Statement necklace - OOAK
One-of-a-Kind Beaded Statement Necklace
The WOWZA 3 1/4" large, pristine condition vintage, deep diamond shaped Brown and Cream Pendant holds it's own against THE MOST STUNNING Creamy striated-marbled Celluloid beads I have ever seen!!!!! (They called them "French Ivory", faux ivory of course and the look...smashing!!!) Zoom in to see detail. (I coveted these beads for an entire year before purchasing them) They are STUNNING (did I say stunning?!) and bold sized, measuring 7/8" for the largest and 3/8" for the smallest). A beautifully conceived and executed, Designer Quality Statement Necklace.
*The Pendant measures a wowza 3 1/4" large!
*The necklace measures 19", finished with a lobster clasp closure and a 3" extension for ultimate versatility. Need a tweak on the length...just ask!