AMELIA - Antique Perfume Button Necklace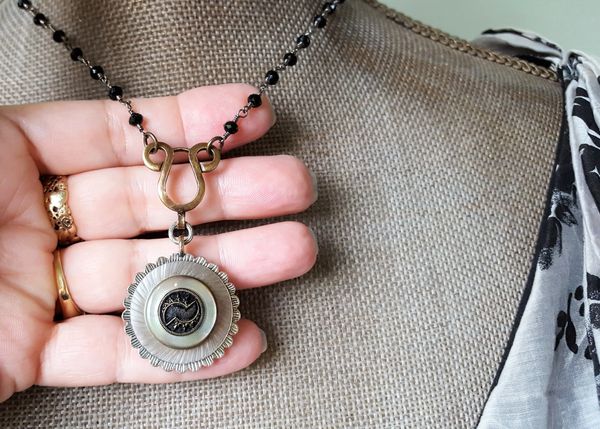 AMELIA - Antique Perfume Button Necklace
A stunning, double stack of Blush Pearl (with a lovely subtle flash, in a myriad of colors) and a Victorian Era, Black tinted Perfume Button* c.1890 are featured on this finely beaded One-of-a-Kind Antique Button Necklace. The combination is exquisite! The pendant measures 1 1/4" and hangs from a strand of tiny Black Glass beaded chain. Simply styled for easy, everyday wear. Perfect when you need a little pretty! This would make a lovely Birthday gift!!
~The button pendant measures 1 1/4"
~The chain is handbeaded Black Czech Glass. All lengths come with a 3" extension
*A bit about Perfume Buttons: Perfume Buttons were designed and manufactured in the early 1800's, incorporating fabric as part of their design - usually velvet. The ladies of the day wore these buttons on their dresses, putting their fragrance on them rather than running the risk of staining their clothing.
The story goes that during the Civil War the ladies would take a perfumed button off their dress and give it to their loved one, sending him into war with a romantic memento. Many stories are told of soldiers who died with a button in his pocket or stories that recount how this memento kept them alive during those stressful times.