ANA - Textile Pendant Necklace, Burgundy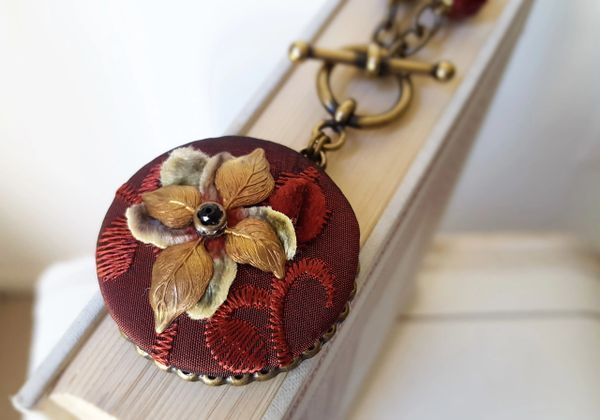 ANA - Textile Pendant Necklace, Burgundy
'Reminiscent' of 1900's perfume buttons, this stunning, contemporary version is a 1 5/8" Large Textile Button in luscious, rich Burgundy with intricate embroidery and embellished with vintage millinery petals, etched metal leaves and beaded center flower. It hangs from a hand beaded, antiqued gold chain with a front toggle clasp closure. Lovely and Original it will add texture and beautiful detail to anything you wear. Think tee shirt, jeans and a great belt...crisp, white open collar shirt...chunky sweater...even a simple black dress...this piece is more versatile than you may have thought!

***((The Story behind PERFUME BUTTONS..."made in the mid-1800's, Perfume Buttons were constructed with an underlay of velvet fabric, usually with a, ornate brass overlay. Perfumes of the Victorian Era were oil based, and would soil a women's' garment. These buttons were designed so women could dab their perfume on the velvet of the button, thus, protecting their clothing. During the Civil War, women would give such a button, scented with their perfume, to a husband or lover going off to war. He would stitch it under his uniform collar as a reminder of the love he left behind")).

On a personal note...I started my creative career as a Fashion Designer. Working with textiles is both nostalgic and very dear to me...it is the perfect marrying of my past with my present. Here...the results of my most recent session.