Antique, Floral Intaglio Necklace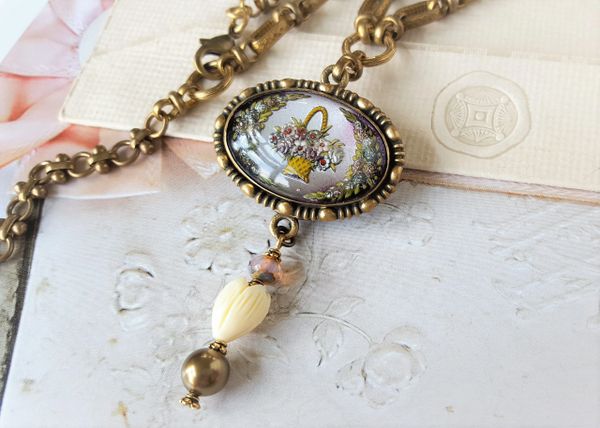 Antique, Floral Intaglio Necklace
"If you have a penchant for the Victorian Era this Floral under glass is sure to charm you".
Set in a decorative metal framework...a delicate Floral composition with stunning detail and high color is reverse painted on this domed, Antique Glass Pendant circa 1890-1910. The intricate, mixed link and hand-beaded chain beautifully compliment the Rose and Gold tones in the pendant. A very pretty pairing! The details are lovely...zoom in to best appreciate it. One-of-a-Kind 
Originally a brooch these now, highly collectible small works were originally made as Souvenirs...charming little travel tokens to take back to loved ones. 
-The pendant measures 1 1/2" x 1 1/8"
-The chain is 17" long with a 3" extension. Need a small adjustment? Just ask.