Betsy - Art Deco, Vintage Button Necklace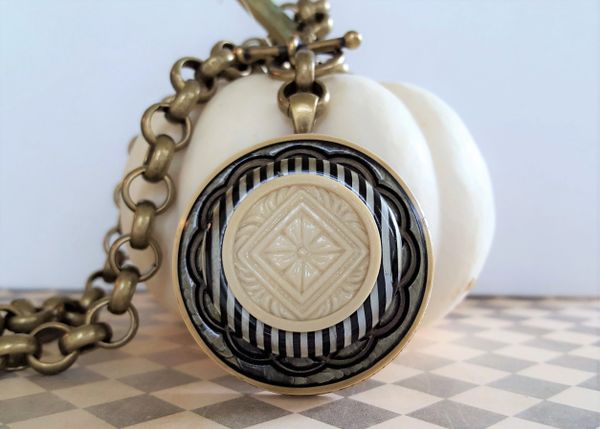 Betsy - Art Deco, Vintage Button Necklace
This striking, triple stack of geometric patterned vintage 1930's-40's carved Art Deco* Buttons in Black, Cream and Putty Grey measures a whopping 2" large and hangs from antiqued gold, super chunky Rollo chain (each link measures 3/8") with a Toggle Clasp closure. This Vintage Button Necklace is One-of-a-Kind and a WOWZA statement piece!!
*A bit about Art Deco...also called style moderne, movement in the decorative arts and architecture that originated in the 1920s and developed into a major style in the United States during the 1930s. Its name was derived from the Exposition Internationale des Arts Décoratifs et Industriels Modernes, held in Paris in 1925, where the style was first exhibited. Art Deco design represented modernism turned into fashion with the intention to create a sleek and anti-traditional elegance that symbolized wealth and sophistication.
* The button pendant is 2 7/8" large
* The chain is super chunky Rollo with a Toggle Clasp closure.