Black Floral Cameo, Victorian Mourning Necklace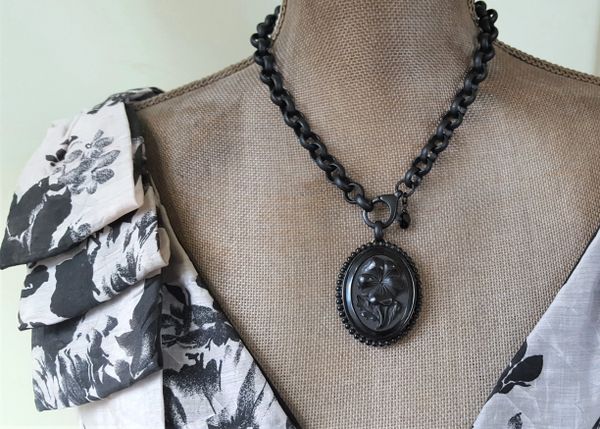 Black Floral Cameo, Victorian Mourning Necklace
The all Black, Modern Cameo Necklace, One-of-a-Kind
A STUNNING, Antique Black Glass Cameo c.1880 with a high relief Floral design hangs from a super chunky Black Rollo chain (each link is 3/8") with a decorative front closure clasp and black bead dangle. Quite a Statement piece...both beautiful...and edgy.
*The Cameo pendant measures 2 1/8" large
*Order shorter lengths for a choker or longer per your style...see the drop down menu
*The Cameo can be removed from the clasp allowing you to change out your pendant
A bit of history...Mourning jewelry has been around since the 16th century, but it is widely associated with the Victorian Era, when mass production made it affordable. The trend reached its high point after the death of Prince Albert in 1861, when Queen Victoria and her court, wore black clothing and matching mourning jewelry for decades.
Thanks to this royal example, black jewelry became quite fashionable. The best pieces were made out of jet, a fossilized coal found near Whitby, England, black glass, black enamel, vulcanite (a hardened rubber,) and gutta percha.