Blue Butterfly Bib Necklace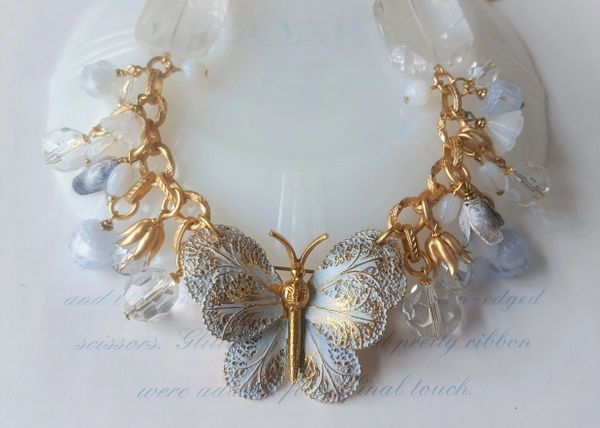 Blue Butterfly Bib Necklace
The 'Butterfly'. The multicultural symbol of the beauty of nature. Of transformation. Of new beginnings. We all have a story. We all know someone that has a story.
This 'very pretty' charm style, Bib Necklace features a lovely, golden Butterfly with a pale, milky blue wash...the softest blue you've ever seen. It is surrounded by a bevy of beautiful Vintage Milk Glass drops, Opaline beads, faceted Crystal and very unusual carved two-toned milky Blue beads c.1910. The combination of textures and subtle color of milky Blues, Opal and clear Crystal is subtle yet breathtaking. The mixed link chain is matte satin gold and has a lobster clasp closure with a generous 3" extension. What a "Statement piece"...and the color!!!! One-of-a-Kind.
The Butterfly Focal measure 2 1/4" x 1 3/4"
The Chain is matte satin gold and, all lengths come with a 3" extension