Butterfly Intaglio Necklace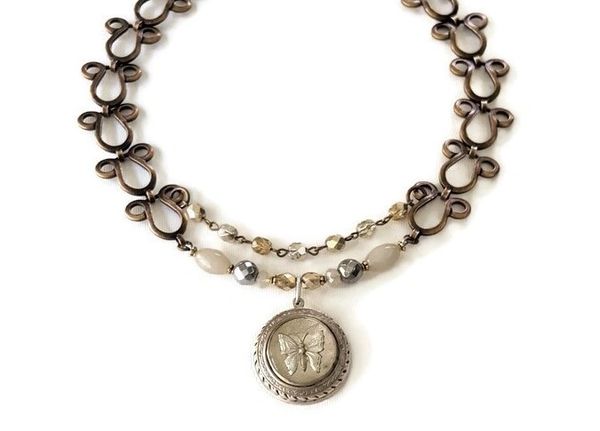 Butterfly Intaglio Necklace
It's impossible to not like a butterfly with their delicate beauty and gentle flapping of wings. They are the symbol of transformation and creation. Folk lore holds that a visit from a Butterfly is a visit from a loved one that has passed. I want to believe that...every time one lands near.
A lovely relic from the past c.1850-1890...this shimmering, reverse painted Butterfly Intaglio, nestles in a decorative setting with domed glass. The unusual vintage chain together with the hand beaded center in a mix of soft metal colors compliments beautifully. Original, one-of-a-kind veryDonna design.
*The Butterfly Pendant measures just over 1 1/8"
*Length...I designed this piece to be worn closer to the neck. Fits size 16" to 19" (need a small adjustment?...just ask)