CELIA - Gold Pearl Necklace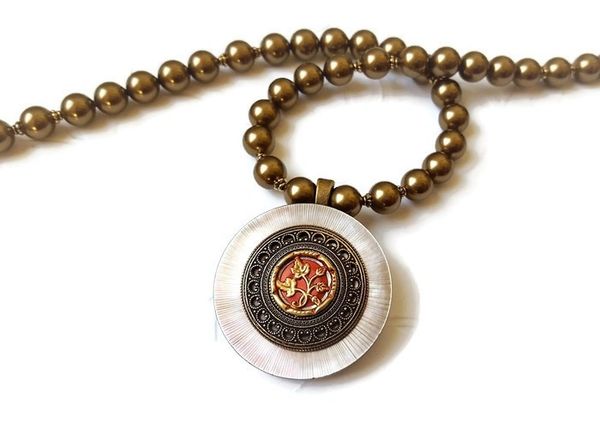 CELIA - Gold Pearl Necklace
A strand of pearls with a whole different personality! 
Antique Gold, Swarovski Pearls balance beautifully with a delicately etched Smokey Mother-of-Pearl (with a Filigree and metal Floral center) to create this Antique Button Necklace with Old World Charm. Those of you with an appreciation for Victorian Era buttons know that 'red tinted metal', and in pristine condition, is hard to come by! The large 1 5/8" pendant hangs from a strand of 8mm, rich 'Vintage Gold' pearls with a lobster clasp back and 3" extension
* The center focal button and setting is 1 5/8" large
All of the button jewelry in my shop is impeccably crafted using the finest components. I search out the most unique and beautiful Antique Buttons for my jewelry and take special care in choosing the settings, chain and small embellishments to enhance the beauty of each piece.