DIANA - Antique Button Necklace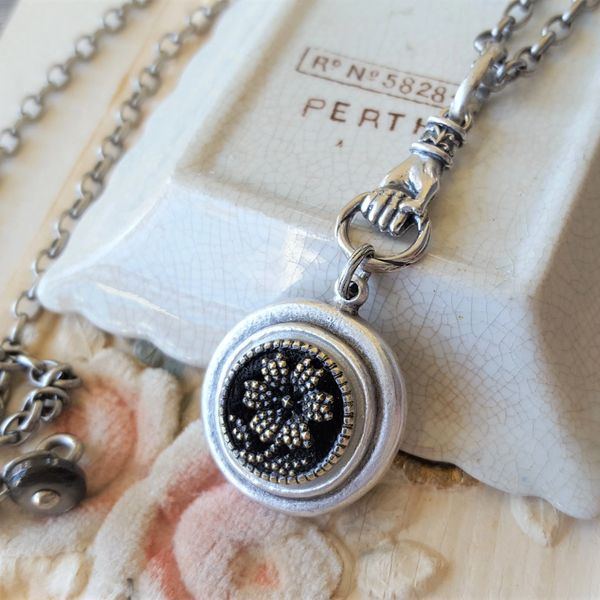 DIANA - Antique Button Necklace
DIANA- A beautiful Little Piece of History!
This lovely little *Antique Perfume Button c.1880, with it's intricate metalwork (zoom in for the stunning details on the flower) is a prime example of the fine craftsmanship of years gone by. The Velvet portion of the button is well preserved and holds it's rich inky black color beautifully....I only wish there was a bit of scent too! This Charming button is cup mounted in a soft matte silver setting and hangs from a Victorian style hand charm. The chain is 32" of fine gauge rollo chain with a tiny, antique child's shoe button accent. Easy 'toss on' styling!
-The Button and Mount measures just under 1" large
-The total pendant drop is 2 1/2"
-Need a tweak on length?...just ask!
**((The Story behind PERFUME BUTTONS..."made in the mid-1800's, Perfume Picture Buttons were constructed with an underlay of velvet fabric with a pierced, ornate brass overlay. Perfumes of the Victorian Era were oil based, and would soil a women's' garment. These buttons were designed so women could dab their perfume on the velvet of the button, thus, protecting their clothing and carry their scent. During the Civil War, women would give such a button, scented with their perfume, to a husband or lover going off to war. He would stitch it under his uniform collar as a reminder of the love he left behind")).