DOT - Retro Polka Dot Bakelite Necklace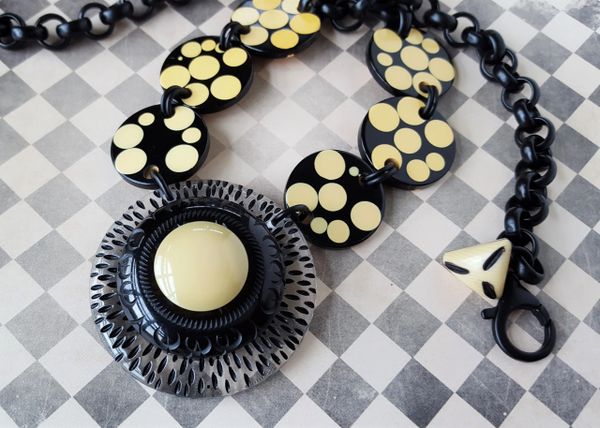 DOT - Retro Polka Dot Bakelite Necklace
WOWZA!! Rare...and, One-of-a-Kind Bakelite Necklace
Everything about this piece IS wowza! The striking, over-sized, triple stack of vintage 1930's-40's Art Deco Buttons...the rare and very unusual Black and Butter Yellow Bakelite 'Disks' (that I have been hoarding for years...just waiting for the right inspiration! This is a true "Wake Up Your Wardrobe " piece!!!
*The details:
-The Stack...measures 2 1/4" and features a vintage, over-sized Transparent Button with black dashes topped with a carved Black Bakelite Button with a Butter Cream Celluloid Topper. (The extra special perk in the transparent base button is being able to see the color underneath. Wearing red? It will appear red!!)
-The Disks...are Black Bakelite with variegated Butter Yellow polka dots. Tested positive for Bakelite!
-The Chain is chunky Black Rollo chain (each link measures 3/8") with a back Lobster clasp closure.