ELINORE ROSE- Antique Button Necklace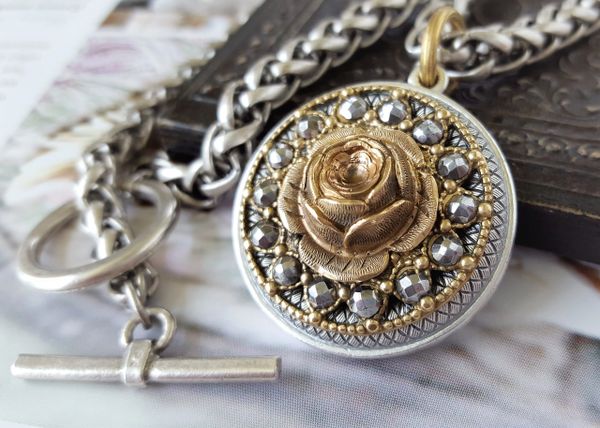 ELINORE ROSE- Antique Button Necklace
Oh! Those Victorians! Their attention to detail is unsurpassed...even something as simple as a button is crafted so beautifully.
ELINORE- This one-of-a-kind Antique Button Necklace features a stunning and intricately detail and delicately etched Rose motif in high relief, surrounded by a circle of large steel cuts. An extraordinary button (circa 1890) in excellent condition! The 1 3/8" silver and gold pendant hangs from a antiqued silver Rope Chain (thick as a pencil) with a Toggle Clasp closure. The pendant floats on the chain allowing you to wear the toggle in the front, back or asymmetrically. Quite a beauty! Just the ONE available.
* The center focal button and setting is 1 3/8" large
* See the drop down menu for length options.
All of the button jewelry in my shop is impeccably crafted using the finest components. I search out the most unique and beautiful Antique Buttons for my jewelry and take special care in choosing the settings, chain and small embellishments to enhance the beauty of each piece.