ELOISE - Antique Floral Intaglio Necklace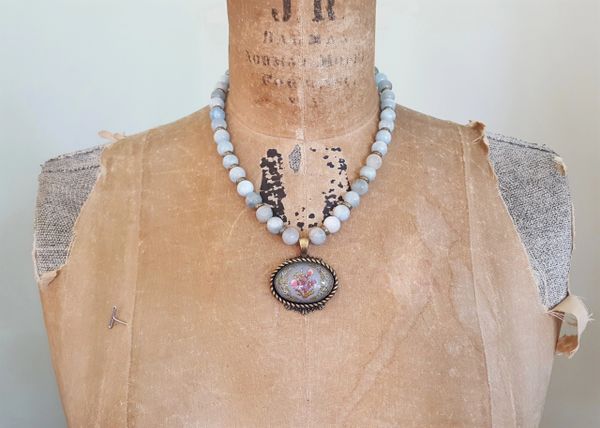 ELOISE - Antique Floral Intaglio Necklace
"If you have a penchant for the Victorian Era this miniature bouquet under glass is sure to charm you".
Set in intricate warm brass framework...a tiny garden display is reverse painted on this domed, Antique Glass Pendant circa 1850-1890. The semi-precious, Aquamarine hand-beaded necklace beautifully compliment the blues in the pendant. A very pretty pairing! The details are lovely...zoom in to best appreciate it. ONE-of-a-Kind
-The pendant measures 1 1/2" x 1 1/8"
-The beaded necklace is 17" long with a lobster clasp and 3" extension. (Fits sizes 17 - 20")
**WANT the look in the last photo?: See this listing. Order DELANEY in the color Moonstone 
https://verydonna.com/products/delaney-faceted-bezel-chain-layering-necklace