Forget-Me Not - Floral Micro Mosaic Necklace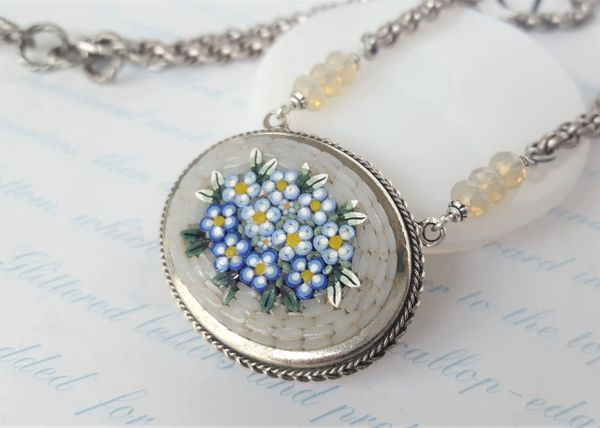 Forget-Me Not - Floral Micro Mosaic Necklace
SO sweet.
Like a miniature piece of Art, this lovely c.1920-1940, micro-mosaic Floral Pendant Necklace is made of hundreds of pieces of tiny colored glass fit together to make the intricate, colorful, delicate floral design. The detail and workmanship are a testament to the attention to detail of days long past. The colors are bright and eye catching... a striking presentation. The 1 5/8" x 1 1/2" oval pendant is cup set and hangs from a hand beaded 17" antiqued silver textural link Chain with a lobster clasp closure and 3" extension (fits 17" to 20"). Simply styled and easy to wear...this will quickly become your "go to" when you need a bit of 'pretty' to dress up just about anything! One-of-a-Kind.
*The pendant is a large 1 5/8" x 1 1/2"
*The chain fits 17" and extends to 20". Need a small tweak? Just ask.