ISLE - Crystal and Aquamarine Pendant, Lariat Necklace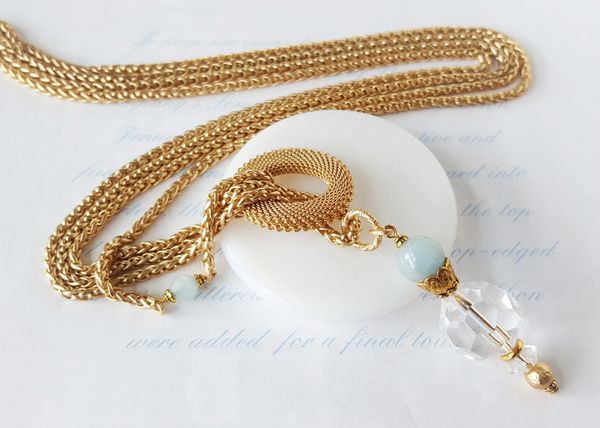 ISLE - Crystal and Aquamarine Pendant, Lariat Necklace
Who doesn't like a necklace that's a great 'Toss On' and can be worn more than one way?!
Lariat style. Looped over...or wrapped short, this striking, faceted Crystal and Aquamarine Necklace is luxurious. The chunky hand-beaded focal FOB measures 2" large and hangs from matte satin gold Rope Chain with a silky finish and great drape and 'swing'! A classic, easy, every-day-wear necklace you'll toss on with everything.
*The focal pendant measures 2" large.
*The Length...in Lariat mode (see #8 photo for reference) the "point" where the chains meet at the "oval" can be 30" or 32" (leaving an additional 2" of chain and 2" focal drop beyond the oval just as you see it). Need a bit of a tweak? Just ask.
*****
All images, designs and listing content are copyrighted veryDonna. All rights reserved.