JENN - Cream Rose Bib Necklace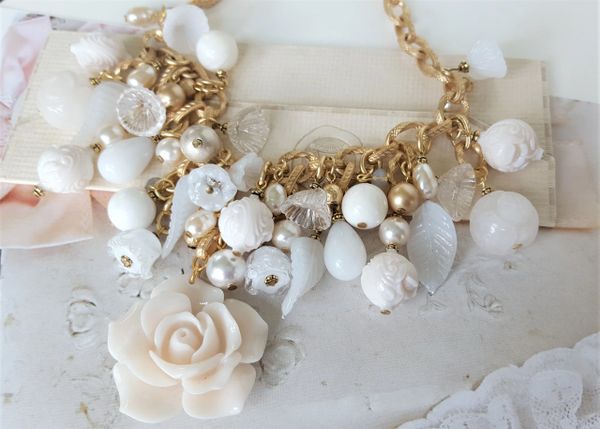 JENN - Cream Rose Bib Necklace
Garden Party. Garden Wedding?
This 'very pretty' charm style, Rose Floral Bib Necklace features a lovely, highly dimensional Creamy Carved Rose Focal surrounded by a bevy of beautiful Vintage cream, cream and more cream Milky Glass drops, carved quartz, creamy pearls, and hand-blown Glass Flowers beads. The combination of textures and subtle color of milk and Cream (and just a hit of blush pink) is subtle yet breathtaking. The mixed link chain is matte satin gold and has a lobster clasp closure with a generous 3" extension. What a lovely "Statement piece"...and the color ? Divine, and will go with 'everything'!!
The Focal Rose Pendant measure 1 1/2"
The Chain is matte satin gold and, all lengths come with a 3" extension