JOLEE - Antique Button Necklace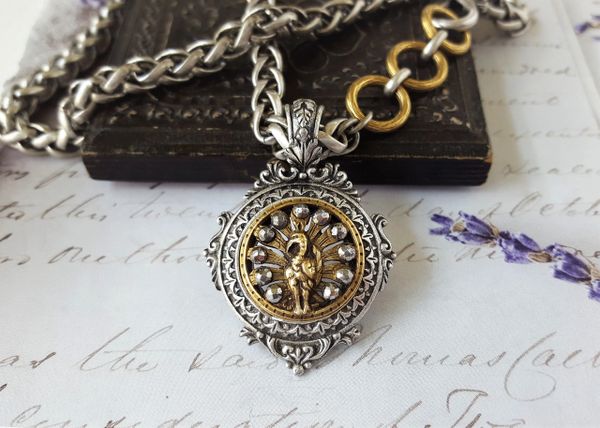 JOLEE - Antique Button Necklace
An ornate medallion style pendant featuring a rare Victorian Era Metal Button (c.1880), with a highly detail Peacock Motif, boasts intricate metal-work and numerous steel cuts. The metal-work, mix of gold and silver and antique button create great visual texture. The thick, antique silver Rope chain (thick as a pencil) is fluid and drapes beautifully. The necklace has a lobster style clasp and contrasting antique gold rings for interest (and size variations). The pendant floats on the chain allowing you to wear the clasp asymmetrical or traditional back closure. One-of-a-Kind
-The pendant measures 1 3/4" long x 1 1/8" wide
-Chain Length options (see the drop down menu) **include** the clasp and 3- contrasting links. Meaning: if you order 17" this is the longest length but, can be worn shorter if you link in to the contrasting rings.
-Comes to you beautifully packaged and ready for gifting (or keeping!)
All of the button jewelry in my shop is impeccably crafted using the finest components. I search out the most unique and beautiful Antique Buttons for my jewelry and take special care in choosing the settings, chain and small embellishments to enhance the beauty of each piece.
*This is an original veryDonna design. Copyrite 4/2020