JOON - Toggle Bracelet with Medallion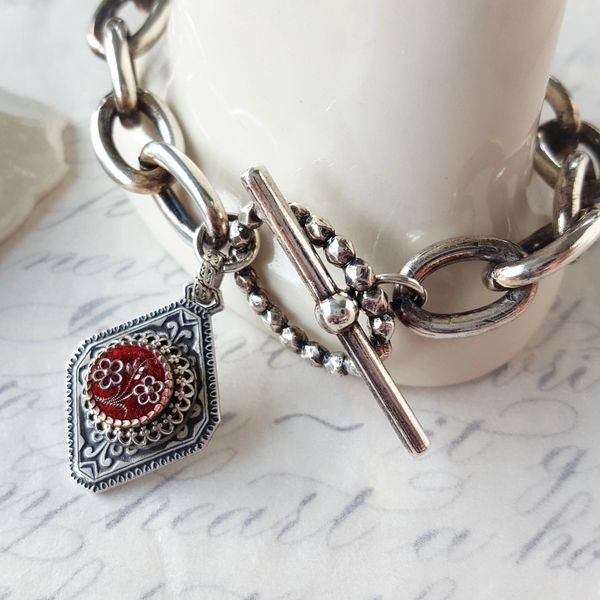 JOON - Toggle Bracelet with Medallion
The 'super' chunky, Silver Toggle BRACELET
With easy everyday styling and chunky eye catching appeal...this large link Toggle Clasp Bracelet with an aged sterling silver finish, will quickly become a go-to favorite! A dangling medallion with an intricately etched design and diminutive c.1890 antique *'Perfume Button' adds texture and a charming historical touch. Choose your perfume button color from Red, Royal and Black. Absolutely LUXE.
-The chain links measure 5/8" each
-The medallion measures 1"
-Choose your button and length from the drop down menus
**((The Story behind PERFUME BUTTONS..."made in the mid-1800's, Perfume Picture Buttons were constructed with an underlay of velvet fabric with a pierced, ornate brass overlay. Perfumes of the Victorian Era were oil based, and would soil a women's' garment. These buttons were designed so women could dab their perfume on the velvet of the button, thus, protecting their clothing and carry their scent. During the Civil War, women would give such a button, scented with their perfume, to a husband or lover going off to war. He would stitch it under his uniform collar as a reminder of the love he left behind")).