KINSEY - Art Nouveau Butterfly Necklace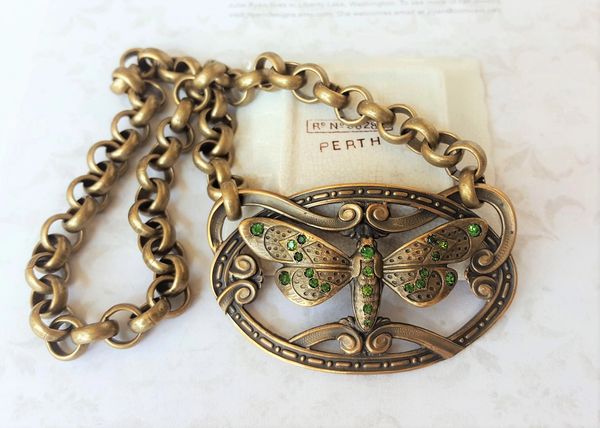 KINSEY - Art Nouveau Butterfly Necklace
"If you have a penchant for Art Nouveau, this impressive over-sized Butterfly Statement Necklace is sure to WOW you".
Super sized at an impressive 3 1/4" wide, this Art Nouveau* era brass Butterfly (c.1890) boasts stunning and intricate design and incised green stones. It is in immaculate condition especially considering it's 130 year age!!. In it's past life it was a brooch pin, now transformed in to a one-of-a-kind Statement necklace. The pendant hangs from super chunky Rollo Chain and has a back lobster clasp closure and hand-beaded 3" extension.
*Art Nouveau is an ornamental style of art that flourished between about 1890 and 1910 throughout Europe and the United States. Art Nouveau is characterized by its use of a long, sinuous, organic line and was employed most often in architecture, interior design, jewelry, glass design and illustration. It was a deliberate attempt to create a new style, free of the imitative historicism that dominated much of 19th-century art and design.
-The pendant measures 3 1/4" wide x 2"
-See the drop down menu for Necklace Length options. (Has a 3" extension for additional versatility)