LUCIA - Art Deco Necklace, Black/Cream/Tortoise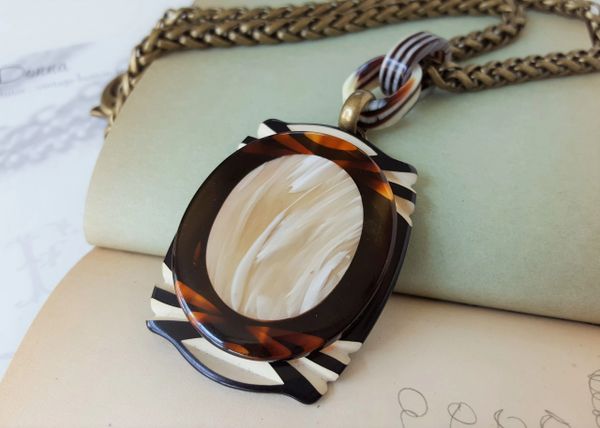 LUCIA - Art Deco Necklace, Black/Cream/Tortoise
This striking, double stack of vintage 1930's carved Deco Buttons in stunning Black, Cream and Tortoise Shell colors measures a large 2 1/4" x 1 1/2" and hangs from a thick, antiqued gold, Rope Chain (thick as a pencil) with a decorative lobster clasp closure. This Vintage Button Necklace is a WOWZA statement piece beautifully conceived and constructed.
* The button pendant is 2 1/4" x 1 1/2" large
* The chain is thick Rope Chain in an antique gold finish

**Pair with the long vintage Italian Lucite Link Chain (in cream with chestnut and espresso) for a fabulous Statement Look!
https://verydonna.com/products/long-deco-vintage-lucite-chain-wrap

**See the coordinating Bracelet