NATASCHA - 2 Piece Lucite Necklace SET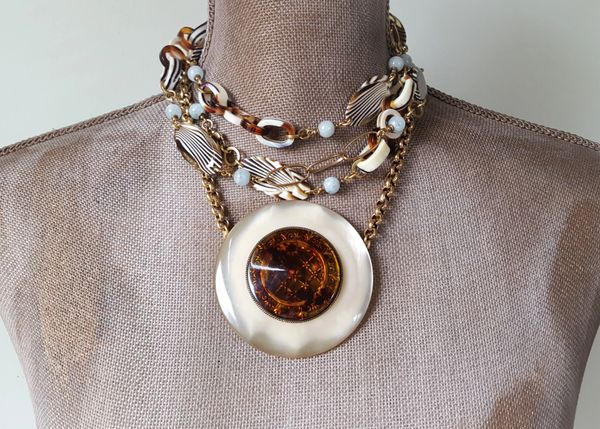 NATASCHA - 2 Piece Lucite Necklace SET
Two Piece Layering Necklace and Oversized Pendant SET
This striking, chunky but, absolutely lightweight, vintage Italian Lucite Necklace in Brown, Cream and Tortoise Shell stripes infused with Aquamarine (what an amazing combination!!) is as unusual as it is sensational! Paired with an oversized Lucite Pendant in glowing Pale Gold (measures a large 3") with a vintage Tortoise Shell topper...the set is WOWZA gorgeous!!
The 3" Pendant Necklace measure 17" with a 3" extension (fits sizes 17" to 20")
The Long Layering Necklace comes in two sizes...Order single long at 36" (which can double up) OR...52" (which can triple up). *Shown is 52"
*See the drop-down menu for Length options...(need a small adjustment on either piece...just ask!)
**SEE a similar style 
https://verydonna.com/products/blondie-2-piece-lucite-necklace-set