SAI - Japanese Floral Necklace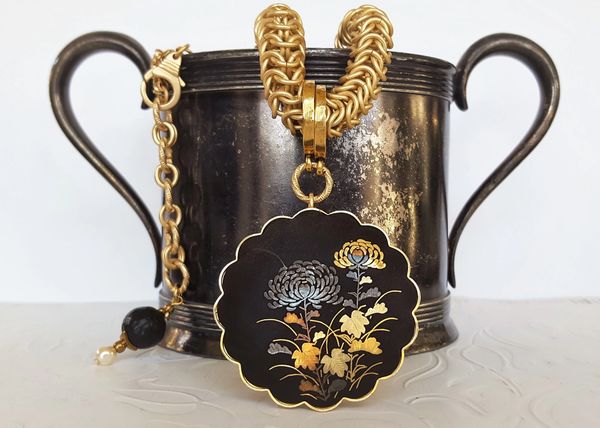 SAI - Japanese Floral Necklace
STUNNING (and with more fine detail than the photos can show. This piece is much more beautiful in person) this vintage Japanese *Damascene, with it's intricate Floral Design, striking color combination of gold and silver on black and, intricate scalloped edge...is...Art in miniature! It is in pristine condition and simply breathtaking! The over-sized (almost 2") pendant hangs from a 17" chunky round chain-maille (thick as your finger) in matte satin gold with a lobster clasp closure and 3" extension (fits 17" to 20"). Bold sized elegance in a One-of-a-Kind Statement Necklace.
*What makes this rare? The 'over'-size of it. The bold Floral design. And, it is in pristine condition
*Damascene is the art of hand etching design into darkly oxidized metal then applying 18K or 24K gold and/or silver foil to create intricate patterns. The result is striking and beautiful. The style's English name was likely inspired by its resemblance to rich tapestry patterns found in damask silk.