SAKI - Japanese Damascene Necklace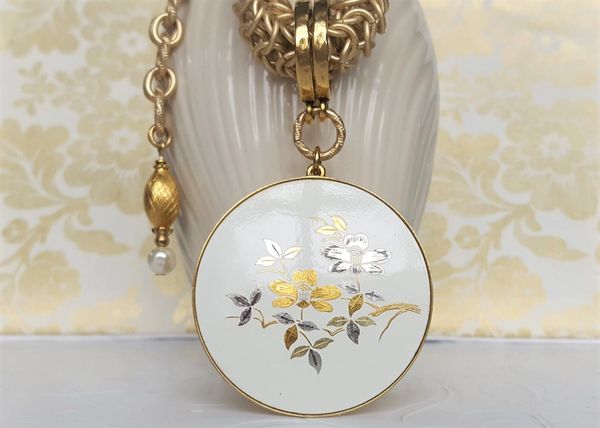 SAKI - Japanese Damascene Necklace
RARE and one-of-a-kind.

STUNNING (and with more detail than the photos can show) this vintage *Damascene, with it's intricate floral design and striking color combination of gold and silver on cream...is...Art in miniature! It is perfection. The over-sized (almost 2") pendant hangs from a 17" chunky round chain-maille (thick as your finger) in matte satin gold with a lobster clasp closure and 3" extension (fits 17" to 20"). Bold sized elegance in a one-of-a-kind Statement Necklace
*Damascene is the art of hand etching design into typically darkly oxidized metal then applying 18K or 24K gold and/or silver foil to create intricate patterns. The result is striking and beautiful. The style's English name was likely inspired by its resemblance to rich tapestry patterns found in damask silk.
What makes this piece rare? The color. I've been collecting Japanese Damascene for quite some time...cream is extremely hard to come by.