VERA - Chunky Green Bakelite Bead Necklace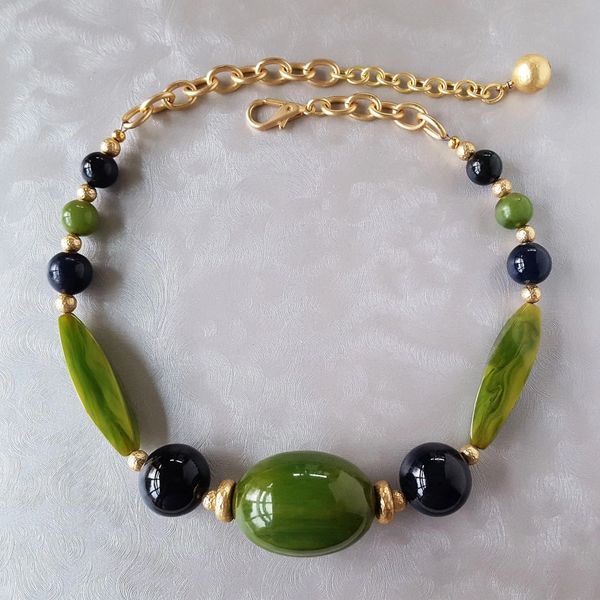 VERA - Chunky Green Bakelite Bead Necklace
These beads were a once in a lifetime find!
VERA - Green Bakelite Bead Necklace. Chunky and delicious and in the most gorgeous shade of Green with contrasting Inky Blue/Black, these vintage oversized 1940's Bakelite Beads (true and tested) will take your breath away. Even if you're not a Bakelite lover!! (Here's the back story...three years ago when traveling to a small antiquing town in upstate NY, and doing my usual hunt for fabulous finds, I was lucky enough to get my hands on some of these beauties. I've held them back waiting for just the right inspiration and I needed to love them long enough to let them go!!) I Love the rich, marbled green and the contrasting inky blue black...a stunning combination that becomes even more spectacular in true light. These luscious beads have matte satin gold hammered metal beads between them that add a bit more pop. WOWZA!!
-For it's size...not as weighty as it looks.
-The center Bakelite Bead measures 1 1/2"
-The Necklace has a back Lobster Clasp Closure with a 3" extension