Vintage Japanese Floral Damascene Statement Necklace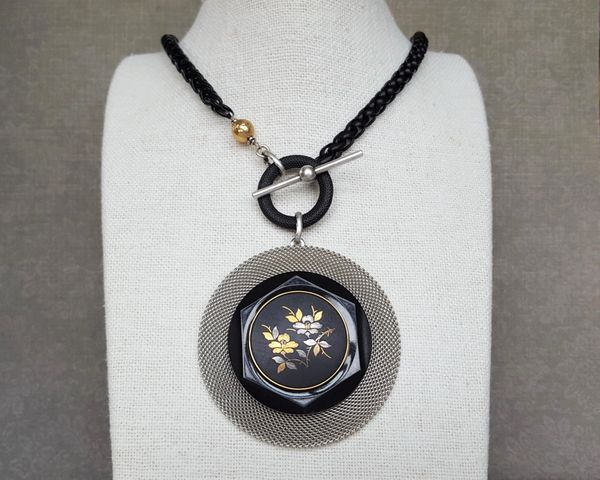 Vintage Japanese Floral Damascene Statement Necklace
STUNNING (and with more detail than the photos can show) this vintage 30's Japanese *Damascene, with it's lovely, delicate hand-painted Floral design and striking color combination of gold and silver on black is...wearable ART! The wowza 2 1/2" large-sized pendant is comprised of a triple mount of the Damascene, geometric cut black and silver toned mesh metal. The Stetement sized pendant hangs from a luxurious matte satin black rope chain (thick as a pencil) with a contrasting silver Toggle Clasp. A single, matte satin gold ball bead adds additional asymmetric interest. One-of-a-Kind and a real head turner!
***Damascene is the art of hand etching design into darkly oxidized metal then applying 18K or 24K gold and/or silver foil to create intricate patterns. The result is striking and beautiful. Altho a Japanese Artform...the style's English name was likely inspired by its resemblance to rich tapestry patterns found in damask silk.
-The pendant measures 2 1/2"
-See the drop down menu for length options.