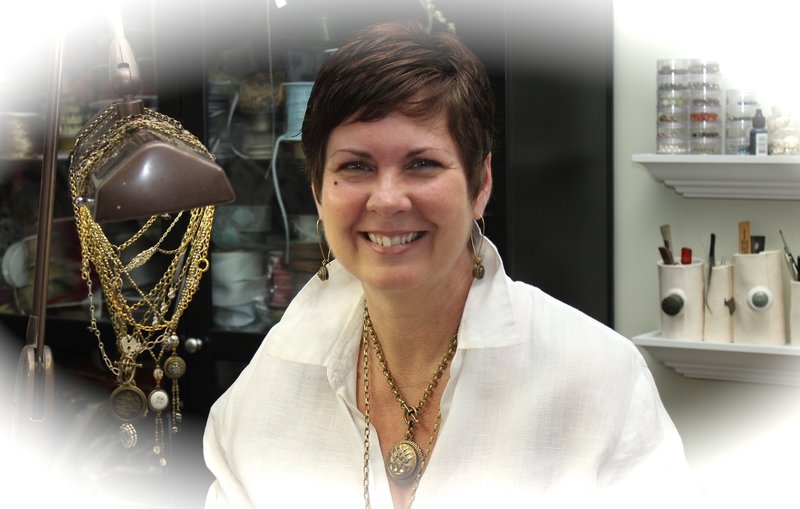 An Idea Is Born...
"veryDonna" was founded in 2011 by Artist/Designer Donna Sutor.  A graduate of the Fashion Institute of Technology in New York, Donna began her career as a women's sportswear designer, traveling to Paris, Milan, London, Istanbul and Hong Kong for inspiration.
Throughout her 38-year design career, Donna was always drawn to "Art in Miniature," and began collecting and curating antique and vintage buttons as a hobby.  Their intricate detail and place in fashion history fascinated her; she could just imagine the Victorian Era gowns and outrageous Art Deco coats they had once adorned.  Donna's button collection continued to grow until one day, when she came across a particular button that was so beautiful and 'jewel-like' that she had an epiphany: it's like a piece of jewelry!  Seeing what was once just a hobby in a whole new light, the idea for "veryDonna" was born.
Donna retreated to her New Jersey studio to handcraft what would become her very first necklaces.  MIA for weeks, her closest girlfriends began to raise questions.  Where is Donna?  What has she been doing?  Excited for the big reveal, Donna packed the creations into her purse and met her girlfriends for dinner.  She laid the necklaces out on the table, and within seconds, hands were stretching out and grabbing for the jewelry.  Sophisticated ladies were 'calling dibs,' and in that moment Donna knew she was onto something.
Those first necklaces soon blossomed into a thriving business.  Today, Donna continues to handcraft her "contemporary jewelry with a past," sourcing the most unique and beautiful buttons and other 'found' lovely bits from all over the world.  She takes special care in choosing the mounts, chains, closures and embellishments to enhance the beauty of each one-of-a-kind piece.
Donna considers herself fortunate to spend her 'work days' creating from that which inspires her, in the very same New Jersey studio where it all began, surrounded by the love and support of her husband and business partner, Mark.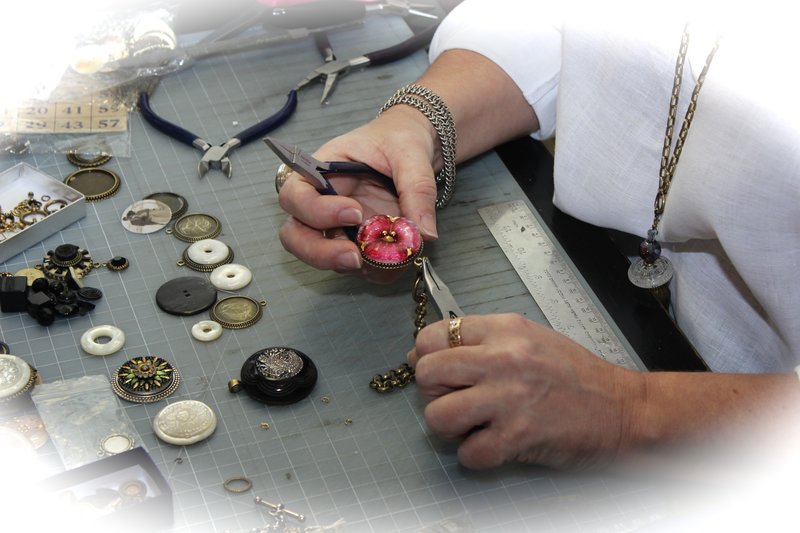 About Me...

I am the girl who finds beauty and romance in anything with a secret past...the button, the brooch, the scrap of lace...the bits and pieces at the bottom of the box, long forgotten.  I am a hunter-gatherer and love the thrill of the 'find' and the possibilities it creates.
I ADORE...
antique markets.
the architecture of old houses.
rainy days...OH! I LOVE rainy days.
pasta, wine and crusty bread (WITH butter).
cooking.
chocolate anything
everything cream, ivory, ecru, white...
long hours in the studio.
vintage buttons, lace and "tactile" textiles.
my loving husband.
my beautiful twin boys.
my delightful girlfriends.
Thank you for visiting my world~ D.

Owner, Artist/ Designer

Favorite quote and words to live by: "Anything worth doing...is worth doing well."