MADELINE - Bubble Glass Locket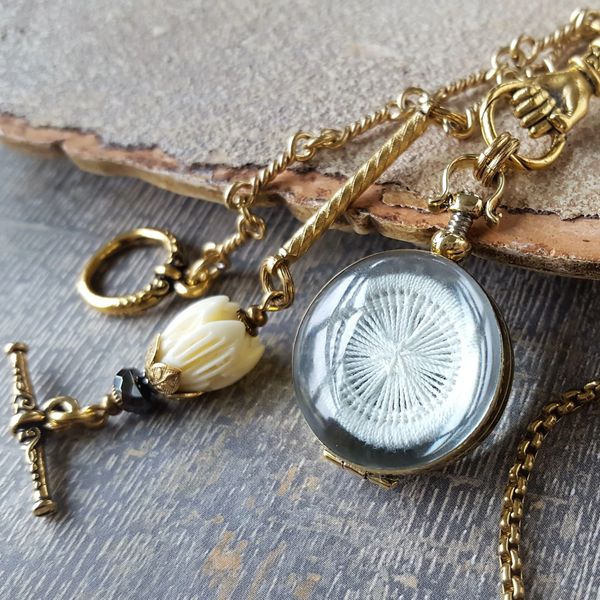 MADELINE - Bubble Glass Locket
The MADELINE - Chatelaine Style Necklace is an assemblage, created using a Bubble Glass Locket that holds a lovely 'needle lace' Dorset Button (handmade by an intricate process of wrapping and twisting thread around a tiny round hoop. They originated in Dorset England and were produced between c.1700 thru c.1860). It's like a tiny lace doily and reminds me of my Maternal Grandmother*. The locket, dangles from a charming Victorian Style Hand and Ring and...it opens enabling you to replace the Dorset with a photo, lock of hair or other small momento. The pure brass chains are vintage, mixed link and look lovely together. Add your own charms to the Hand or to the dangling ring. Toss this on with everything...it's a great conversation piece!
-The Bubble Glass Locket measures just over 1". The total drop length of the grouping is 4" including the bale.
-The Venetian Style Chain slips over your head. See the drop down menu for Length options.
*Note: The Madeline is an 'ode to' my late great Grandmother. Besides being a wonderful person and an tremendous inspiration to me...she was a master knit and crochet extraordinaire. Every baby in a 50 mile radius had a blanket and sweater set lovingly made by my Grandmother. She shared her talents with me and I am forever grateful. I chose a Dorset Button for the locket for the obvious theme and because as family we are all intricately woven together...the past, the present and future generations.