ESTELLE - Lapis Necklace with Chinoiserie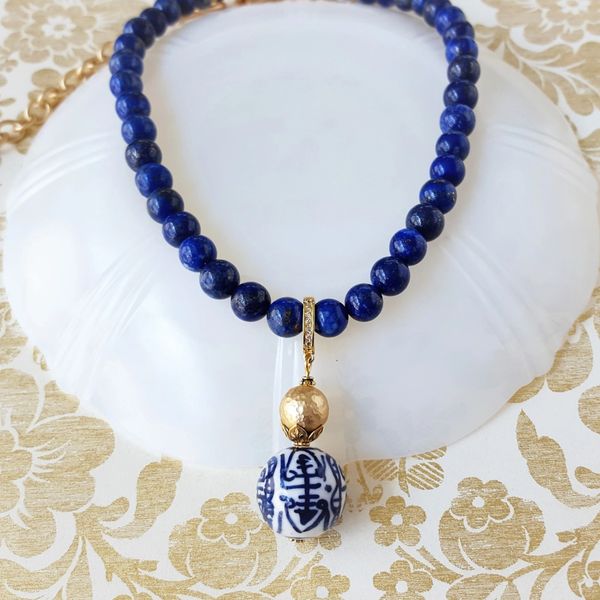 ESTELLE - Lapis Necklace with Chinoiserie
The Blue and White Chinoiserie Collection...There's nothing more Iconic than Crisp Blue and White for Summer! Steeped in tradition yet thoroughly modern, the entire collection featuring hand-painted porcelain *Chinoiserie Beads, vintage Baroque Pearls and richly textured Satin Gold Balls is a mix and matchers dream!! Layer it? Oh yes!!
ESTELLE- Simply styled yet not simple in the least, this hand beaded rich Lapis Lazuli Necklace features a hand-painted porcelain Chinoiserie and matte gold ball, drop pendant. The necklace is hand beaded with 10mm, AAA quality lapis beads with a back lobster clasp closure and 3" extension. The focal drop measures 1 3/4" .
-See the drop down menu for length options
*A little info...The term 'chinoiserie' which comes from the French word 'chinois' or 'chinese' denotes that chinoiserie did not, in fact, come directly from Asia but is instead a European interpretation of Asian culture and decorative arts.