JACQUELINE- Chinoiserie and Yellow Jade Statement Necklace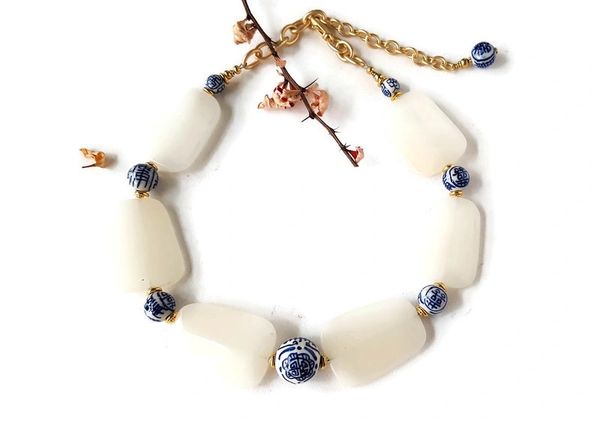 JACQUELINE- Chinoiserie and Yellow Jade Statement Necklace
The Blue and White Chinoiserie Collection:
There's nothing more Iconic than Crisp Blue and White for Summer! Steeped in tradition yet thoroughly modern, the entire collection featuring hand-painted porcelain *Chinoiserie Beads, vintage Baroque Pearls and richly textured Satin Gold Balls is a mix and matchers dream!! Layer it? Oh yes!!
Pictured is JAQUELINE. Summer gorgeous...the Chunky, Pale Yellow Jade and Handpainted Porcelain Chinoiserie Beaded Statement Necklace is as Bold as it is Beautiful. The Jade pieces measure aprox 1 3/4" x 1 1/4". The center Chinoiserie bead measures 5/8". The total length of the necklace is 18" with a lobster clasp closure and 3" extension and fits 18" to 21". Zoom the photo so you can enjoy the intricate details. Absolutely LOVELY!
*A little info...The term 'chinoiserie' which comes from the French word 'chinois' or 'chinese' denotes that chinoiserie did not, in fact, come directly from Asia but is instead a European interpretation of Asian culture and decorative arts.