KARI - Metal and Textile Assemblage Necklace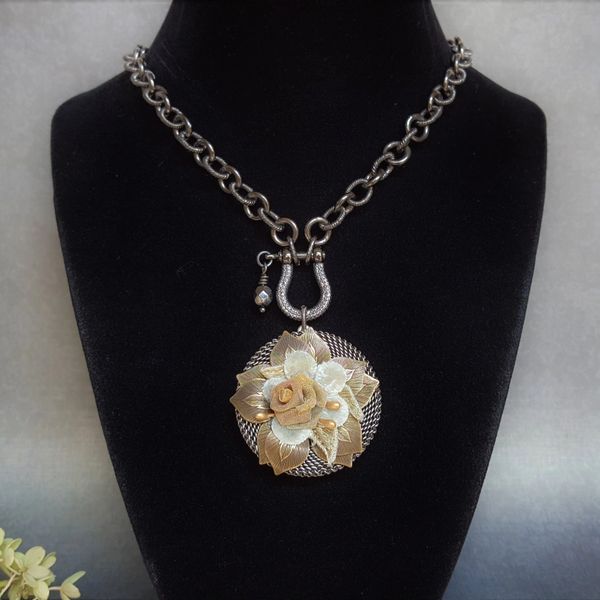 KARI - Metal and Textile Assemblage Necklace
KARI- Metal and Textile Assemblage Necklace, Fiber Art Jewelry
'Reminiscent' of 1900's perfume buttons*, this stunning, contemporary version is a 1 5/8" Large, handmade mixed Metal and Textile Pendant is created using intricately crafted mesh metal roses, bronze metal floral findings and embellished with vintage velvet millinery petals and embroidered leaves. A stunning assemblage of dimension, texture and color. The Textile Art Pendant hangs from a decorative, pave u-shackle. Details. Detail. Details. The chain is chunky gunmetal chain with a lobster clasp closure and 3" extension. See the drop down menu for length options. Original veryDonna styling. You will not be disappointed. Limited Edition.
-WANT the combo/companion piece in photos 5 & 6? 
*((The Story behind PERFUME BUTTONS..."made in the mid-1800's, Perfume Buttons were constructed with an underlay of velvet fabric, usually with a, ornate brass overlay. Perfumes of the Victorian Era were oil based, and could easily soil a garment. These buttons were designed so women could dab their perfume on the velvet of the button, thus, protecting their clothing. During the Civil War, women would give such a button, scented with their perfume, to a husband or lover going off to war. He would stitch it under his uniform collar as a reminder of the love he left behind")).
On a personal note...I started my creative career as a Fashion Designer. Working with textiles is both nostalgic and very dear to me...it is the perfect marrying of my past with my present. Here...the results of my most recent session.