KATANI - Hand Painted, Blue Floral Necklace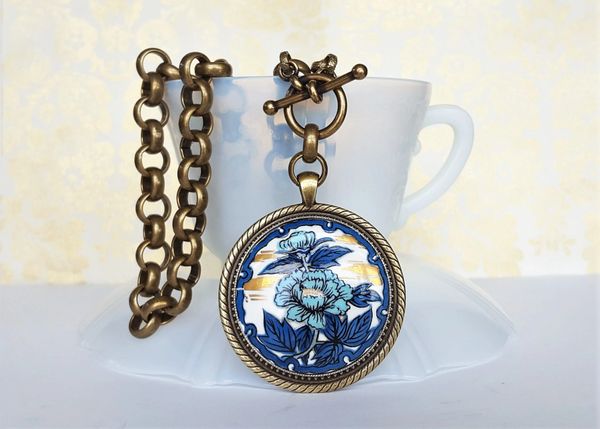 KATANI - Hand Painted, Blue Floral Necklace
This STUNNING handpainted porcelain pendant in vivid blue and aqua measures a large 2" and hangs from a chunky Rollo chain with a front toggle clasp closure.
The pendant is made from a vintage 1950's Japanese Katani Ware* Brooch, reclaimed and re-imagined in to a necklace. Just gorgeous! (Zoom in to really appreciate the detail!) The chain is super chunky Rollo with each link measuring 3/8". One-of-a-Kind and a true Statement piece.
* The pendant is just over 2" large
* The chain is super chunky Rollo (each link is 3/8")
*This is a Japanese Vintage Kutani ware. Kutani ware ( Kutani-yaki) is a style of Japanese porcelain traditionally from Kutani, now a part of Kaga, Ishikawa, in the former Kaga Province.