LIZA - Black and Cream Statement Necklace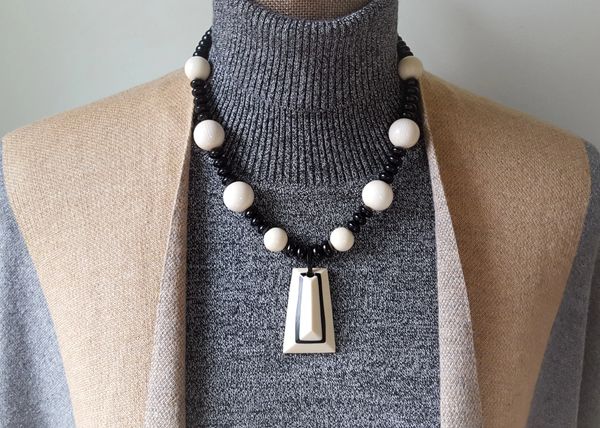 LIZA - Black and Cream Statement Necklace
Meet LIZA!!
A geometric shaped beauty! WOWZA, at 2" large and in pristine condition, the black and creamy white vintage celluloid pendant holds it's own against stunning striated-marbled c.1940's Celluloid beads...the combination of shapes and contrasting color is 'eye catching' gorgeous! (The beads are "French Ivory", faux- of course and the look...smashing!!!) Zoom in to see all the details. A beautifully conceived and executed, Designer Quality Statement Necklace. Bold in size but, lightweight!One-of-a-Two Chunky Beaded Statement Necklace

*The Pendant measures 2" long x 1 1/8" at it's widest point
*The necklace measures 18", finished with a lobster clasp closure and a 3" extension (fits size 18" to 21"). **Need a tweak on the length...just ask!