RONA - Circles Statement Necklace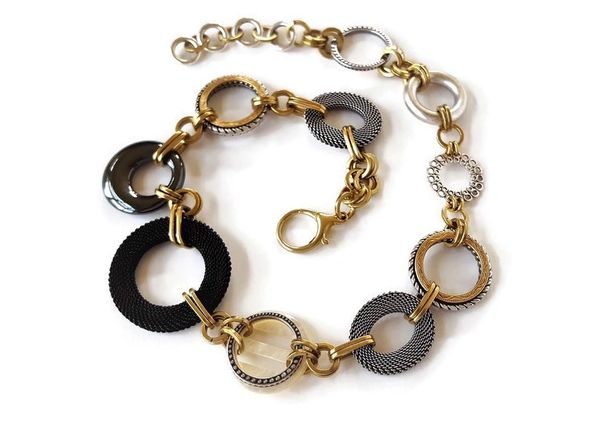 RONA - Circles Statement Necklace
Combining Texture, Color, and Mixed Metals this WOWZA Statement Necklace is as bold as it is beautiful. In a color palette that ranges from Black to White and every shade of grey in between, this necklace will hold it's own on literally any color you wear. The components include rings of woven mesh metal, hematite, sterling silver, etched gold and even a flash of Mother-of-Pearl...all pulled together with fabulous vintage 80's mixed link chain. A contemporary classic that will stand the test of time!
~As you see it this necklace measures 18" with a 3" extension (fits 18" to 21") **Need a small tweak...just ask
~The largest circle (Black mesh metal) measures 1 1/2" and the smallest is 7/8"