The CONNIE- Chinoiserie Porcelain and Baroque Pearl Earring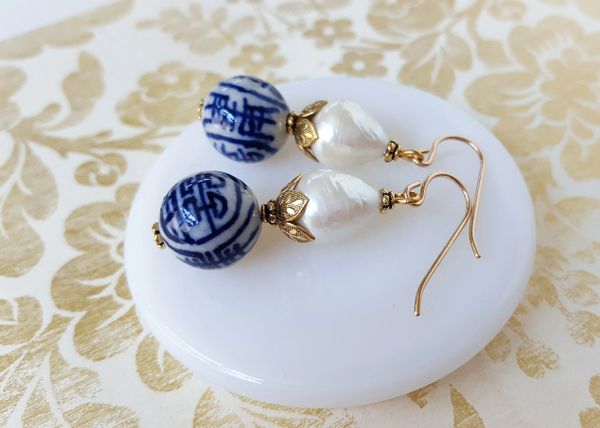 The CONNIE- Chinoiserie Porcelain and Baroque Pearl Earring
The Blue and White Chinoiserie Collection...
There's nothing more Iconic than Crisp Blue and White for Summer! Steeped in tradition yet thoroughly modern, the entire collection featuring hand-painted porcelain *Chinoiserie Beads, vintage Baroque Pearls and richly textured Satin Gold Balls is a mix and matchers dream!! Layer it? Oh yes!!
The CONNIE Earring: Summer Pretty, these updated, classic earrings feature hand-painted porcelain Chinoiserie Beads and Vintage Baroque Pearl Teardrops. Absolutely LOVELY!
-The earrings measure 1 3/4" including the ear wires
-The ear wires are excellent quality 14KGF
*The term 'chinoiserie' which comes from the French word 'chinois' or 'chinese' denotes that chinoiserie did not, in fact, come directly from Asia but is instead a European interpretation of Asian culture and decorative arts.