The Mixed Link and Pearl Choker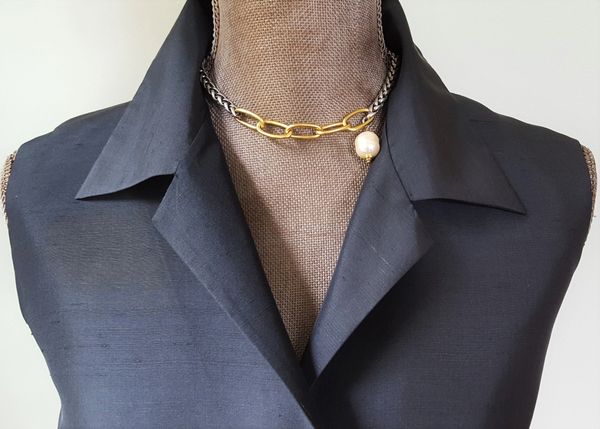 The Mixed Link and Pearl Choker
*NEW for Fall/Winter 2019! 
Using a mix of unlikely elements...Hard/Soft, Silver/Gold, (and generally considered 'feminine') Chunky Baroque Pearls...the result is a dress up or dress down piece of jewelry for any day wear!! Classic. Contemporary. Versatile. Feminine but, Edgy. And, more importantly easy to wear...easy to mix. I've designed every piece of jewelry in this collection to be mix and matched, layered or worn solo. 
The MIXED LINK PEARL CHOKER NECKLACE: a single, chunky Baroque Pearl mixed with oversized, vintage yellow gold oval loops and thick silver Rope Chain (the chain is thick as a pencil). The necklace measures 15" and has a 3" back extension for versatile lengths (fits 15"- 18"). Need a small adjustment...just ask!
*This design and all images and text are copyright protected 8/2019