TARA - Baroque Pearl and Antique Button Necklace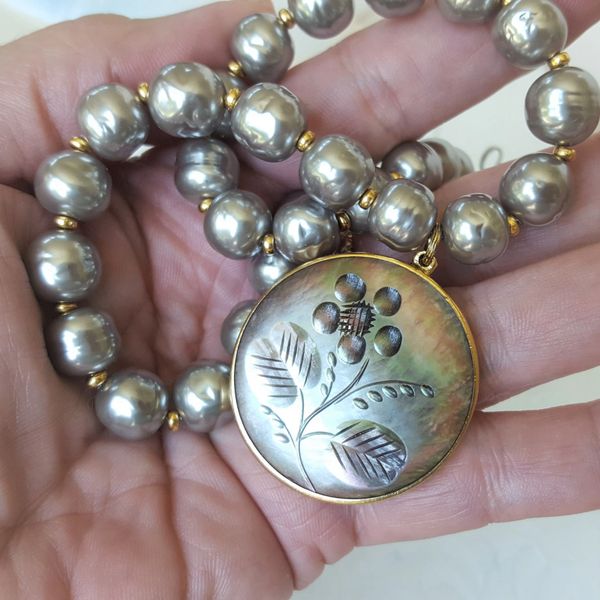 TARA - Baroque Pearl and Antique Button Necklace
This STUNNING Button!
Large sized, and bezel set, this beautiful c.1890 Antique Mother of Pearl Button in all the pastel abalone shades you can think of and with incredible flash (and I mean incredible depth and flash!!) has an etched and incised floral design...stunning Victorian era craftsmanship. The 1 1/2" pendant is complimented by pale celadon green, vintage Baroque Pearls (rare and unusual)...a truly lovely combination...both luxe and beautiful. (Zoom in to really appreciate the detail!) This Baroque Pearl and Antique Button Necklace is One-of-a-Kind and a true Statement piece. The photos do not do it justice.
*Please NOTE...this piece was very difficult to photograph. The pearls are a pale greyed/green (pale celadon) rare and unusual. The first photo best shows the color.
-The button pendant measure 1 1/2"
-The pearl necklace measures 17 1/2" with a 3" extension (for up to 20")